Asthma is a complex clinical syndrome of chronic airway inflammation characterized by recurrent, reversible, airway obstruction. Airway inflammation also leads to airway hyperreactivity, which causes airways to narrow in response to various stimuli.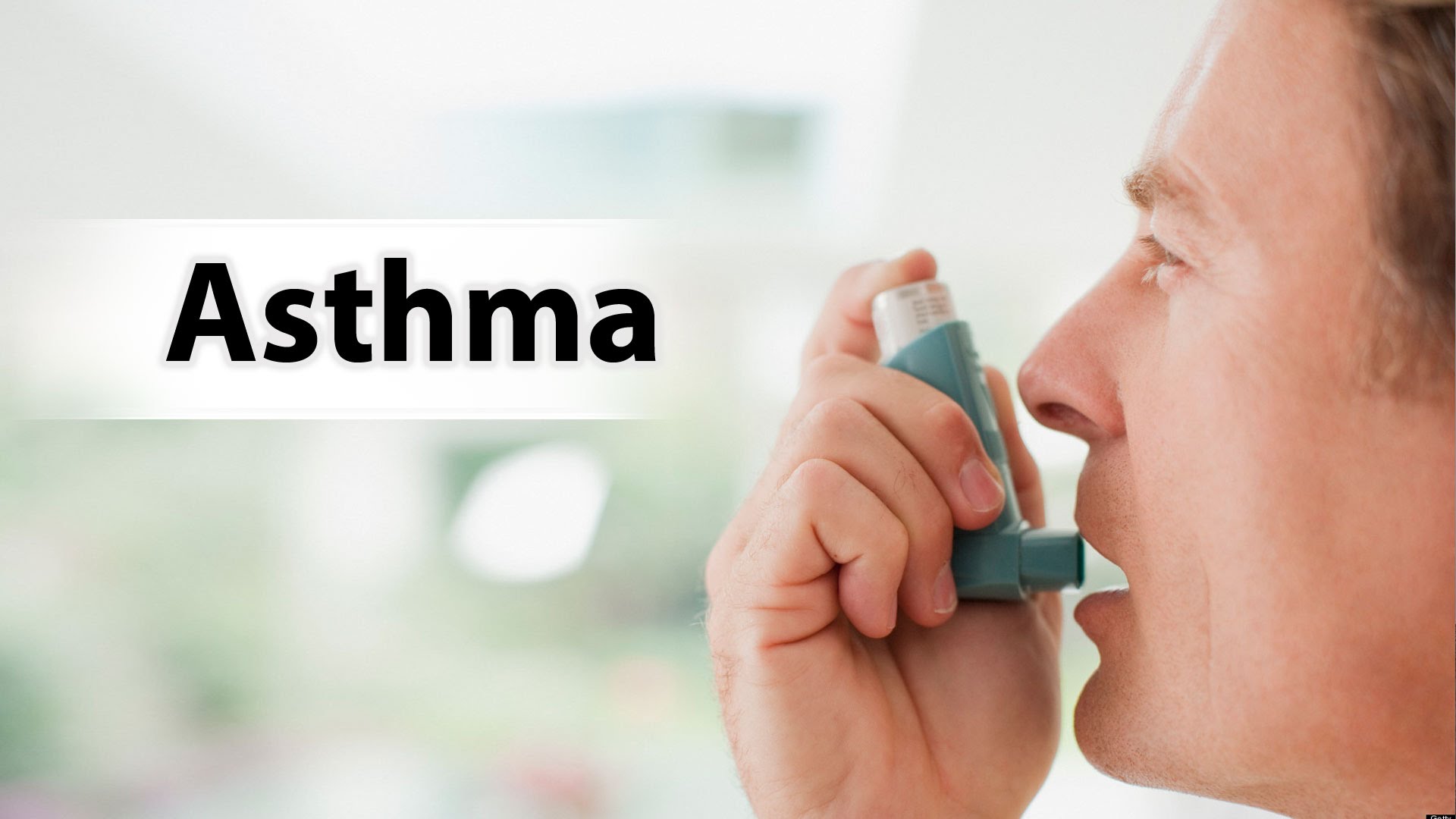 What are risk factors and causes of asthma?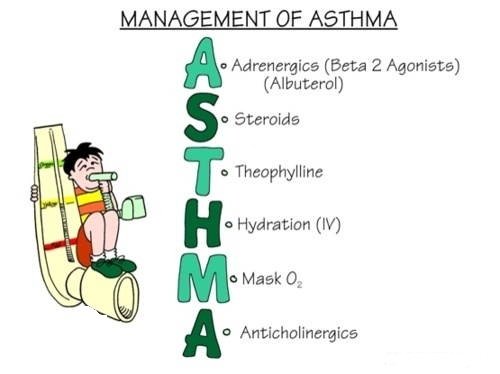 Asthma results from complex interactions between an individual's inherited genetic makeup and their interactions with the environment. The factors that cause a genetically predisposed individual to become asthmatic are poorly understood. The following are risk factors for asthma:
Family history of allergic conditions
Personal history of hay fever (allergic rhinitis)
Viral respiratory illness, such as respiratory syncytial virus (RSV), during childhood
Exposure to cigarette smoke
Obesity
Lower socioeconomic status.
Asthma Symptoms and Signs
Symptoms of asthma develop as a result of the narrowing and inflammation of the airways. Wheezing is a characteristic symptom of asthma, along with shortness of breath. Chest pain or tightness can accompany an asthma attack.
Asthma Related Symptoms and Signs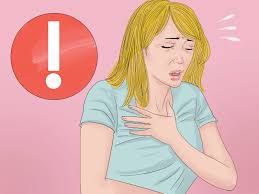 Wheezing
Shortness Of Breath
Cough
What are the different types of asthma?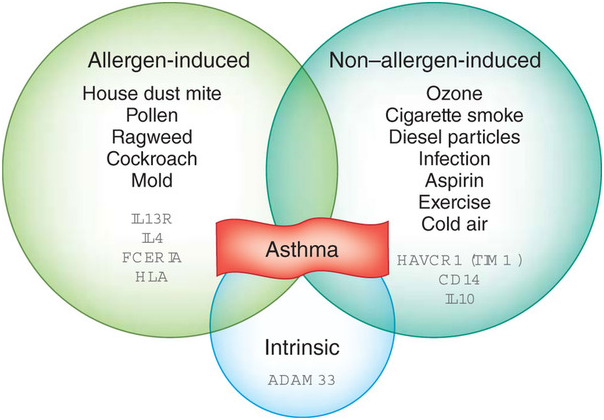 The many potential triggers of asthma largely explain the different ways in which asthma can present. In most cases, the disease starts in early childhood from 2-6 years of age. In this age group, the cause of asthma is often linked to exposure to allergens, such as dust mites, tobacco smoke, and viral respiratory infections. In very young children, less than 2 years of age, asthma can be difficult to diagnose with certainty. Wheezing at this age often follows a viral infection and might disappear later, without ever leading to asthma. Asthma, however, can develop again in adulthood. Adult-onset asthma occurs more often in women, mostly middle-aged, and frequently follows a respiratory tract infection. The triggers in this group are usually nonallergic in nature.
Types: allergic (extrinsic) and nonallergic (intrinsic) asthma
Your doctor may refer to asthma as being "extrinsic" or "intrinsic." A better understanding of the nature of asthma can help explain the differences between them. Extrinsic, or allergic asthma, is more common and typically develops in childhood. Approximately 70%-80% of children with asthma also have documented allergies. Typically, there is a family history of allergies. Additionally, other allergic conditions, such as nasal allergies or eczema, are often also present. Allergic asthma often goes into remission in early adulthood. However, in many cases, the asthma reappears later.
Intrinsic asthma represents a small amount of all cases. It usually develops after the age of 30 and is not typically associated with allergies. Women are more frequently affected and many cases seem to follow a respiratory tract infection. Obesity also appears to be a risk factor for this type of asthma. Intrinsic asthma can be difficult to treat and symptoms are often chronic and year-round.
What are asthma treatment options? Are there home remedies for asthma?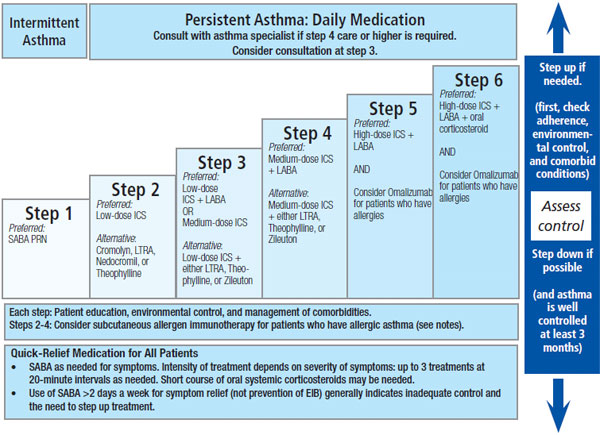 As per widely used guidelines, the treatment goals for asthma are to:
adequately control symptoms,
minimize the risk of future exacerbations,
maintain normal lung function,
maintain normal activity levels, and
use the least amount of medication possible with the least amount of potential side effects.
Inhaled corticosteroids (ICS) are the most effective anti-inflammatory agents available for the chronic treatment of asthma and are first-line therapy per most asthma guidelines. It is well recognized that ICS are very effective in decreasing the risk of asthma exacerbations. Furthermore, the combination of a long-acting bronchodilator (LABA) and an ICS has a significant additional beneficial effect on improving asthma control.
The most commonly used asthma medications include the following:
Short-acting bronchodilators (albuterol [Proventil, Ventolin, ProAir, ProAir RespiClick, Maxair, Xopenex]) provide quick relief and can be used in conjunction for exercise-induced symptoms.
Inhaled steroids (budesonide [Pulmicort Turbuhaler, Pulmicort Respules], fluticasone [Flovent, Arnuity Ellipta], beclomethasone [Qvar], mometasone [Asmanex], ciclesonide [Alvesco], flunisolide [Aerobid, Aerospan]) are first-line anti-inflammatory therapy.
Long-acting bronchodilators (salmeterol [Serevent], formoterol [Foradil], vilanterol) can be added to ICS as additive therapy. LABAs should never be used alone for the treatment of asthma.
Leukotriene modifiers (montelukast [Singulair], zafirlukast [Accolate], zileuton [Zyflo]) can also serve as anti-inflammatory agents.
Anticholinergic agents (ipratropium [Atrovent, Atrovent HFA], tiotropium [Spiriva], umeclidinium [Incruse Ellipta]) can help decrease sputum production.
Anti-IgE treatment (omalizumab [Xolair]) can be used in allergic asthma.
Anti-IL5 treatment (mepolizumab [Nucala], reslizumab [Cinqair]) can be used in eosinophilic asthma.
Chromones (cromolyn [Intal, Opticrom, Gastrocrom], nedocromil [Alocril]) stabilize mast cells (allergic cells) but are rarely used in clinical practice.
Theophylline (Respbid, Slo-Bid, Theo-24) also helps with bronchodilation (opening the airways) but is rarely used in clinical practice due to an unfavorable side-effect profile.
Systemic steroids (prednisone [Deltasone, Liquid Pred], prednisolone [Flo-Pred, Pediapred, Orapred, Orapred ODT], methylprednisolone [Medrol, Depo-Medrol, Solu-Medrol], dexamethasone [DexPak]) are potent anti-inflammatory agents that are routinely used to treat asthma exacerbations but pose numerous unwanted side effects if used repeatedly or chronically.
Numerous additional monoclonal antibodies are also currently being studied and will likely be available within the next couple of years.
Immunotherapy or allergy shots have been shown to decrease medication reliance in allergic asthma.
There are no home remedies that have proven benefit for asthma.