Sinusitis is an inflammation or swelling of the tissue lining the sinuses. Healthy sinuses are filled with air. But when they become blocked and filled with fluid, germs can grow and cause an infection.
Sinusitis signs and symptoms include:
sinus headache,
facial tenderness,
pressure or pain in the sinuses, in the ears and teeth,
fever,
cloudy discolored nasal or postnasal drainage,
feeling of nasal stuffiness,
sore throat,
cough, and
occasionally facial swelling.
Sinus disease is not just one entity but many. Overall infectious or inflammatory sinus disease can be broken up into acute (quick onset) or chronic (over a long period of time). Acute sinusitis is the most common form of sinusitis and is typically treated with a combination of antibiotics and agents to decrease inflammation in the nose.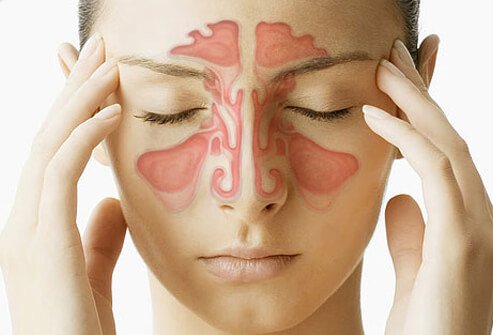 Risk factors
You're at increased risk of getting chronic or recurrent sinusitis if you have:
A nasal passage abnormality, such as a deviated nasal septum or nasal polyps
Asthma, which is highly connected to chronic sinusitis
Aspirin sensitivity that causes respiratory symptoms
An immune system disorder, such as HIV/AIDS or cystic fibrosis
Hay fever or another allergic condition that affects your sinuses
Your mucus is yellow or greenish:
A colored discharge—as opposed to clear mucus—from the nose or down the back of your throat is another sign you may have a sinus infection, although it's not always an indication that you need treatment.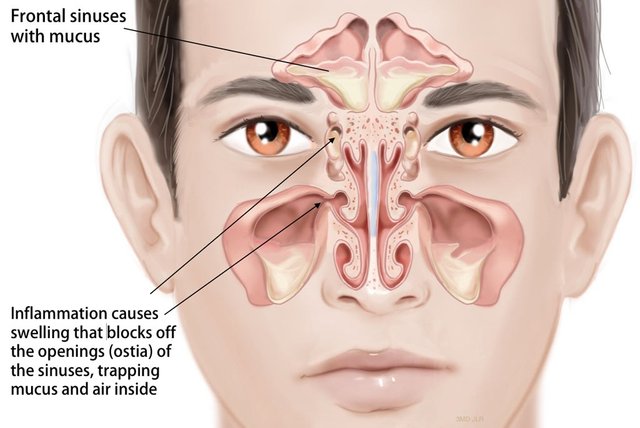 treatment:
Medicines:
Antibiotics . If your doctor thinks a bacterial infection is to blame, he may prescribe antibiotics. For acute sinusitis, you typically take them for 10-14 days. For chronic sinusitis, it might be longer.
Nasal decongestant sprays
Topical nasal decongestants can be helpful if used for no more than three to four days. These medications shrink swollen nasal passages, facilitating the flow of drainage from the sinuses. Overuse of topical nasal decongestants can result in a dependent condition in which the nasal passages swell shut, called rebound phenomenon.